The close-head power tong is used for quick make-up/break-out well service operation. The tong has the following features:

1. Without changing any part within 2 3/8"~3 1/2";
2. Long sevice life;
3. Equipped with conventonal, less teethmark or none- teethmark tong head;
4. Backup tong clamp the bottom of coupling, effectively avoid thread gluing;
5. can be equipped extended guide, for backup tong to clamp the tubing;
6. Can be equipped with torque control system.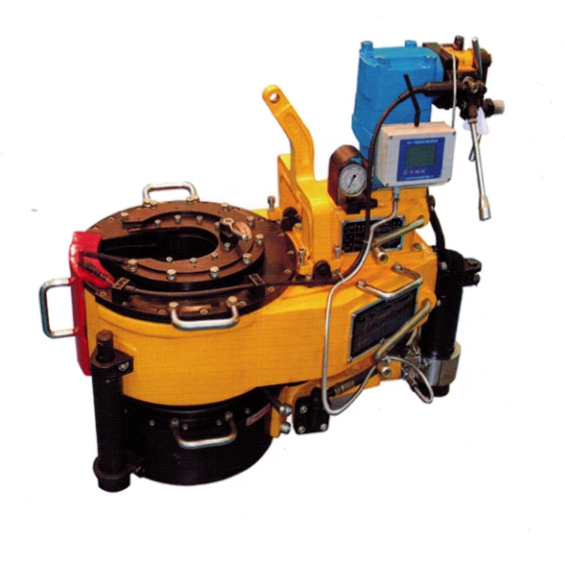 | | | | |
| --- | --- | --- | --- |
| Model | XQ89/3YC | XQ114/6YB | XQ140/12YA XQ140/12YC |
| Range of main tong | 2 3/8"~3 1/2" | 2 7/8"~4 1/2" | 2 7/8"~5 1/2" |
| Range of backup tong | 2 3/8"~4 1/2" | 3 1/2"~5 1/8" | 3 1/2"~6 1/8" |
| Rated torque of high gear | 1100N.m | 1500N.m | 2600N.m |
| Rated troque of low gear | 3000N.m | 6000N.m | 120000N.m |
| Rated speed of high gear | 90 r/min | 85 r/min | 72 r/min |
| Rated speed of low gear | 30 r/min | 20 r/min | 14 r/min |
| Rated system pressure | 10MPa | 11Mpa | 12Mpa |
| Maxiumum flow | 80L/min | 100L/min | 120L/min |
| Weight | 158kg | 220kg | 550kg |
| Dimenison(mm) | 650*430*550 | 750*500*600 | 1024*582*539 |